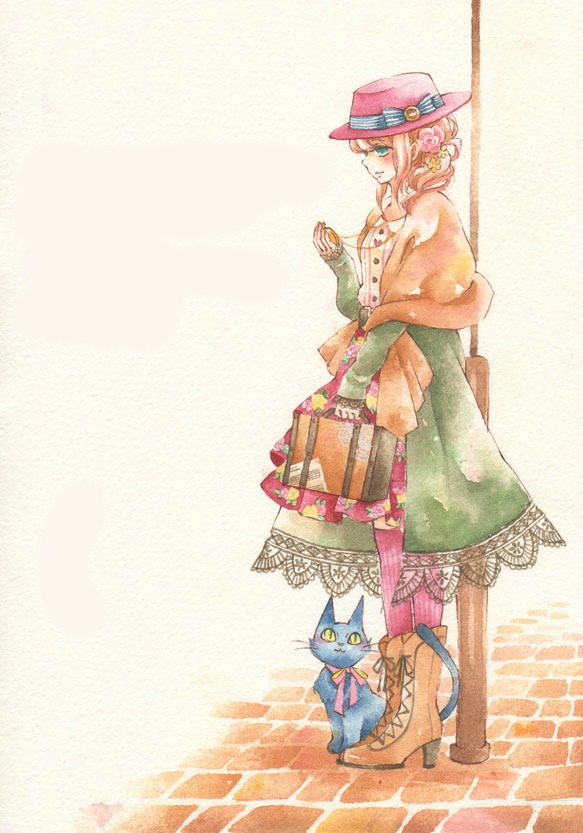 General Information
First name: Koinu
Middle name(s): Maria
Surname: Bulivard
Age: 16
Race: Human
Gender: Female
Sexuality:Straight
Relationship status: Single
Social class: Upper
Occupation: N/A
Traits of Voice
Accent (if any): French
Language spoken: English
Other languages known: French and Basic Spanish
Style of speaking: Gentle and a soft rasp
Volume of voice: Medium

Physical Appearance
Height: 5'5
Weight: 115 lds
Eye color: Light baby blue
Skin color: Fair
Shape of face: Round
Distinguishing features: Her eyes that are quite bright and pale
Build of body: Frail
Hair color: Blonde, with a light tint of red
Hair style: Either up or down, naturally curled
Complexion: Bright red cheeks, but a clean face.
Posture: Straight back, never slouched, and graceful
Tattoos: N/A
Piercings: N/A
Typical clothing: Dresses, that are loose, for the most part.
Is seen by others as: a defenseless girl who has been sheltered for her entire life. And someone who doesn't like to talk about themselves a lot to others( But some people think of it the other way).
Personality
Likes (3 max): Strawberries, imagination, dreams
Dislikes (3 max): Nightmares, dogs, and any rough surfaces on her skin.
Education: Excellent Education
Fears: Her fears is that people will think of her as a powerless figure that none will ever have hope in living by herself.
Personal goals: To show her parents that she can manage by herself, and to find someone to love her for her accomplishments.
Personality: She may not look it,but she can get mad. She shows it by, puffing out her cheeks. But minus that she has room in her heart to make friends her, and special somebody. She shows very little emotion to her father, thinking that he would think of her as a hopeless little las.
But when she gets to know someone she would love to listen to their life problems or adventures. She is the day dreamer of her family, always looking on the bright side of life and doesn't let anything dark or gloomy in her way.
General intelligence: If you need any advice, she will help provide the answers. But, she mostly deals with discovering rare things, to her at least.
Health
Illnesses (if any): Blind in her left eye, and a blurry vision in her right.
Allergies (if any): N/A
Any unhealthy habits: She likes to run off into their garden, without any shoes to feel what she can barely see.
History
Date of birth (Day and month): January 4th
Family members: Father( John), Mother( Eliza)
Past: When Koinu was young her father was able to boost up in the social status along with her mother. Her mother was a spanish lady while her father lived in France and they both met each other there, living there 6 years into her life they moved her, but they noticed something that no doctor could. They did multiple test on her, concluding that she was blind in the left, but getting worse in the right.
"Mama? Will you tel me a bedtime story?" she asked smiling at the women she could barely tell her complexion. But she always used her mind to picture these blurred figures.
"What would you like to hear?" Her mother bent down kissing her forehead, and brushing back her bangs. Koinu thought of one she never heard.
"Tell me about the ocean," Koinu sank into her bad sheets blushing from her mothers soft laughter.
That night, Koinu's dreams were filled with the ocean, and what lives beneath the so called dark, cool water.
But that morning, her mother and father left for government business, leaving her with nothing interesting to do, and the nanny. All that time they were gone, she walked outside taking in a deep breathe, smelling something different. She followed the smell into the kitchen.
"Young mistress!" she heard yelling at her, but there was more than one person, they all wore white, but the smell lead her to something red with bunches of green on top.
"What are these?" She tried to pick one up but was stopped by a hand, when she looked up, something was put in her mouth.
"Here, its called a strawberry. Its a bright red, with either tiny yellow or black seeds, with green leaves that you should avoid." His voice was a deep, one with a hint of english in there, he ripped what was the green leaves off, and followed by little burst of laughter, from her cute face that was as red as the fruit itself.
Those were her only friends, until they disappeared. Her mother told her they went to their families.
But as she got older she grew out of that lonely memory. She ran into her fathers study, the very first time that they talked to each other without any silence. He told her about life outside of the house how people weren't so nice. That they only pretended. She asked that if all people were like that, he answered not all, but those kind of people are hard to come by.
For her birthday, she got a fancy new dress. And a talking fuzzy thing called a Stuffed animal, that will watch over her when she gets lonely.
A month from her birthday, her mother came down with an illness, that her father didn't want others to know about it, and locked her away in a separate room, saying that she passed away. But at times Koinu was able to visit her sickly mother who would listen to what was happening outside. in a room without windows, her mother hugged her only daughter.
"Is this whats it like for you?" Her mother grieved for how she was never able to know what her daughter felt when she couldn't see what was going on around her. But, this has become her daily routine ever since then. Her father rarely coming the the dinner table, or will only visit her mother, instead of her. And hide away from the troubles at his work.
Relationships
Parents: Father And Mother
Parents occupation: Father is an inventor.
Siblings: N/A
Any enemies: The Nanny, because whenever Koinu gets out the quarrel.
Children: She hopes to have them someday.
Friends: Looking for some instead of a talking sheep robot( What her father got her)
Love interest: N/A
Combat
Peaceful or violent: Peaceful
Weapon of choice: A dagger that was her grandfathers. So it has a ruby tipped hilt that has an engraving, that she can't read.
Style of fighting: Clumsy, and it completely shows that she doesn't know how to handle the weapon.
Others
Favorite types of food: Pasta, with some eggplant parmesan cheese. With a light watermelon salad on the side.
Favorite types of drink: Milkshake, and lemonade
Hobbies/past times: She tries to draw at times, she mostly listens to nature, while sitting outside.
Guilty pleasures: Eating cheese cake without permission
Pet peeves: Loud noises, people wanting her to depend on them, and others that just don't sour polite.
Pets: Her fathers gift, the sheep that follows her around but, he hides from her when they play games. Or when he senses her loneliness. He is a black sheep with a gothic like hat and vest. With pink and white stripes for the trimming.
Talents: Listening, and imagination
Favorite colors: Pastel colors
Favorite type of music:Classical and mostly natures own little brew.