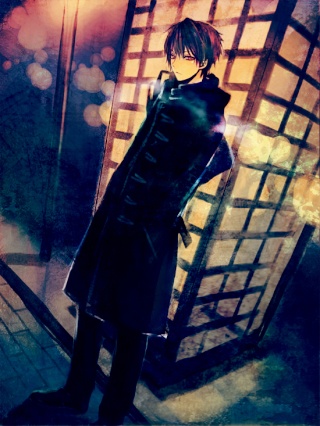 General Information
First name:
Cobalt
Middle name(s):
None
Surname:
Blackburn
Age:
19
Race:
Superhuman
Gender:
Male
Sexuality:
Heterosexual
Relationship status:
Single.
Social class (Upper,middle,lower):
Middle
Occupation:
Intern Mechanic, but rather wishes to be an inventor.
Traits of Voice
Accent (if any):
None
Language spoken:
English
Other languages known:
German and French
Style of speaking:
Clear and crisp? Normal? A little bit unemotional sometimes, I suppose.
Volume of voice:
Depends on the situation.

Physical Appearance
Height:
6'8"
Weight:
140lbs
Eye color:
Golden, the color of gold coins.
Skin color:
A bit pale, but sometimes turns a bit tan when he decides to go out side.
Shape of face:
Round (normally faced?)
Distinguishing features:
Just the fact that his eyes are rather a bright gold color of coins. How suspicious is that though?
Build of body: Very toned. He was made to with stand harsh battles and have the strength to take on his enemies when he couldn't use his fire power. His body is covered in faded scars and burns that he doesn't recall ever getting.
Hair color:
A dark brown color with a small tint of red.
Hair style:
Short and messy. Grooming his hair and or styling it is something he doesn't believe in. He only believes in small trims to keep his hair short for he hates his hair getting long, it'll get in the way.
Complexion:
A clear face (without the oil stains)
Posture:
Tall and straight like a gentlemen and with etiquette. Sometimes just to show off how tall he is to others, but he doesn't mean to do it on purpose. Maybe. . .
Tattoos:
On his right arm, he has a mark of a flame with a circle in the middle and within that circle are written the numbers "001". He hides this tattoo with bandages, explaining to those who ask that its a rather bad burn.
Piercings:
The thought of getting any piercing on his body makes him shutter. Getting something pierced in him gives him a rather... weird memory and feeling that he just can't quite place.
Typical clothing:
Just your typical teenage boy t-shirt and blue jeans. But this is the steampunk era, so the fashion needs to be jazzed up, right? Add a few complicated looking belts/buckles? Anyways, his typical clothes start off with just your average t-shirt, then add a white dress shirt on top with rolled up sleeves. On the left side of the sleeve is just a random belt around his upper arm, then on top of that white shirt, a dark brown vest. For his pants, its brown trousers with two black leather belts and a small hip pack where he keeps a few items with him for reasons. Boots with two buckles on the sides and then one more buckle by the ankle. On his head is his favorite goggles.
For his working clothes, just remove the vest and white dress shirt, then just leave the t-shirt. He'll throw on his working jacket which is just a dark blue jacket with a pulled up collar. Instead of buttons, its just two buckles to buckle up the collar (which is a pointless thing to add because he never buckles that part up) and then three more buckles for the jacket. The jacket is covered in some oil stains and other stains, but its a pretty cool jacket.
On cold days, its just a trench coat with some complicated looking buckles also.
Is seen by others as:
Rather a laid-back, but mysterious boy. Sure, he seems normal and quiet, but yet people don't talk to him or just avoid him for mysterious characters are always the dangerous types. He is respected sometimes and a kind boy.
Personality
Likes (3 max):
Pets, working, new ideas
Dislikes (3 max):
Needles or anything that pierces skin (he doesn't really know why), rude people, blood
Education:
Not that he knows of, just the education of anything mechanic.
Fears:
Being a monster and needles.
Personal goals:
To make the best machine ever and to remember his past.
Personality:
Cobalt is a laid back kind of fellow. He may seem like he doesn't show any emotions, but he has emotions. Not remembering that he was once an experiment and has been around people for such a long time, Cobalt has learned a few emotions. Like happiness, anger, sadness, guilt, and all those easy and common known emotion.
Seeming like a not so harming butterfly, Cobalt is actually a raging war experiment just waiting to explode. Bitterness, anger, and revenge is just waiting to burst. But those emotions are just ticking inside him like a bomb until the right moment. In the past, when he was used for war, Cobalt only had bitterness inside him for his enemies that he had to kill. He is just a heartless killer inside.
General intelligence:
When it comes to intelligence about machines, he's your man. Cobalt is also rather knowledgeable about some things, but its just mostly mechanics.
Health
Illnesses (if any):
Not that he knows of, but to the scientists its PTS. Post traumatic stress. (Don't know if that's an illness or anything?)
Allergies (if any):
None and is rather glad.
Any unhealthy habits:
Spacing out during conversations and working till he falls asleep.
History
Date of birth (Day and month):
December 19th
Family members (Must have a parent or guardian is younger than 17):
His teacher, Iroh.
Past (Must be at least 1-2 paragraphs long):
Such a young and courageous boy, Cobalt was. He actual name was Nathaniel before those dark memories came. He always loved an adventure and dreamed of traveling, getting away from his hometown. To find treasures and help his family out of the rotting poor. His mother has always told him to never go outside alone or at night, it was dangerous. But dangerous was his middle name! He and a couple of friends would sneak out at night and just fool around. It was until one day, that night, Nathaniel had learned his lesson. Collectors had spotted them, and being like the best friends Nathaniel knew (not really), they left him to be captured. When coming face to face with the collectors, it was every man for them selves.
Being taken to a strange place at such a young age, only 6 years old, Nathaniel was then placed in an on going project. Elementa Fira 001. The project was to create elemental weapons, people who could control the elements, Cobalt was picked with the most uncontrollable and destructible element, fire. He was put through so many tests and injected with many things that burned him from inside. In all of the tests he would either get burned, cut, or bruised. Finally, having a breaking success in controlling the fire element on day, at the age of 13, he was instantly put to military use.
Cobalt was excellent strategist and combating. In the military times, he has killed numerous people and under the governments power, as been ordered to betray many people. He was a heartless monster, a young boy with no emotion. Emotions would simply get in the way of his fighting, they would get in the way of the governments influence on him.
One day, in the military camp, a new shipment of recruits were just delivered in. Hopping off that trunk was Cobalt's future. A young boy, possibly a year younger then him, had approached him. Him! Out of all the friendlier looking soldiers in the camp, the young boy came to him!
"Hiya! I'm Roland! Nice ta meet ya!" the boy greeted and held out a hand.
The first thing that came to Cobalt's mind was,
why the hell is this boy holding out his hand?
and then this boys guts. The boy, Roland, sensed that Cobalt had no intention of taking his hand and so lowered his hand.
"Um, what's your name?" Roland asked, trying to get rid of the awkwardness in the air.
"Experiment Elementa Fira 001." Cobalt said blankly.
"Oh wow, um, got a shorter name?"
"No..."
Without even realizing it, a friendship was blooming between the two. But that friendship would be Cobalt's down fall.
***
After a long, hard, and bloody month on the battle field, many lives were lost. Searching for dead comrades on the field, Cobalt prayed that Roland was safe. It was rather strange for a experiment to pray. To whom was he praying to? Cobalt had no idea, but Roland had told him that there were people up in the sky, living in a place called, Heaven. Roland said that those people up there listen to peoples prayers. Cobalt just hoped that someone up there heard his prayer.
No one did.
Buried under a few enemy soldiers was, Roland. Pushing the bodies off his friend, Cobalt stopped halfway through lifting the last body when two bullet wounds showed on his friends chest. The boy let out a gurgling breath and just began to cry. He started to tell Cobalt how he didn't want to die, how he didn't want to even join the military. It was only to help his family. The boy was frightened.
Cobalts visioned was blurred and tears leaked from his eyes. Am I broken? I'm not even damaged, was he first thought as he caught a tear that rolled down his face dirty and bloody face.
"They're tears ya silly robot." Roland laughed.
Cobalt hated that nickname so a strange reason. He wasn't a robot! He was a superhuman There was nothing mechanical about him whatsoever! But, this time Cobalt didn't argue about the nickname like always, and just watched his friend, letting this emotion, sadness, take over him. Roland quickly grasped Cobalt's hand as he sensed his end nearing.
"Don't let 'em control ya, Colby. Don't be a monster anymor'..." and with that the young boy's last breath drew.
So much emotion that day overwhelmed Cobalt. Sadness, anger, guilt, rage, and morning all came in a wave at him. With rage and anger, Cobalt stood up and then attacked everybody. He unleashed his raging flames on his comrades, on his captains. And once he was restrained down and then tranquilized, sadness and guilt came.
***
Cobalt was once again retained on a table to prevent him from unleashing anymore anger. His creator (who shall be nameless for he doesn't really know the scientists name) began to question what was going on with his experiment. Cobalt had been a success, but now after everything and doing it all so perfectly, it was just failing. Why? Getting injected more, Cobalt couldn't take it anymore and so went full out flaming on them. All his anger and engery just released, burning everything in sight. The straps being burned away, Cobalt then escaped the building.
He had traveled through the forest and mountains for many days before he slipped and fell down a cliff, knocking his head in the process. When he finally came to, he was bandaged up and had no recall of anything. His mind was blank.
Cobalt had been found by a old mechanic named, Iroh. He had a talent for machines and lived with his wife. He did have a son, but his son went to go work for the government rather then take on his fathers mechanic shop. Living with the two old couple until he could walk again, they had grown attached to him. And to this day, Cobalt lives with them, learning the ways of the mechanics without any memory of his monstrous days.
Relationships
Parents:
Can't remember before as of now, Iroh and Maddie.
Parents occupation:
Iroh is a mechanic and Maddie is a maid.
Siblings:
None, expect for Iroh's son who is working with the government.
Any enemies (and why):
Scientists and the government, but he doesn't know that. He just keeps to himself and people leave him alone.
Children:
Whoa, whoa, whoa! Let's just slow things down a bit before talking about grandkids alright, Iroh?
Friends:
Cobalt is a trust worthy friend. He is kind and will listen to whatever they have to say. He's not unemotional with friends. He enjoys the company of friends more then anything.
Love interest (if there is one):
He doesn't have a love interest right now. If he did, work or machines would be number one in his charts right now. If he were to look for a love interest, he would want the girl to be rather nice? You know. . . erm, he's never really gave it much thought really. Just a nice girl, okay?
Combat
Peaceful or violent:
In between. Peaceful with his new, mechanic crazy self, and violent as the killer fire controlling experiment.
Weapon of choice (4 max and must be steampunk):
Weapons? He has fire for pete's sake! He does know that he has this strange ability, but keeps it on the down low. He simply carries two handguns and a hand knife that Iroh gave him. "You can never be to sure." is what Iroh always says!
Style of fighting:
Bending and controlling fire like what he was meant for! No. He is just swift, agile, and strong. So that means hands; close and personal. He has no idea where just style and combat comes from, but he uses it for defense.
Others
Favorite types of food:
Spicy food and sweets.
Favorite types of drink:
Water and tea
Hobbies/past times:
His hobbies are drawing out new ideas and for past times. . . he killed.
Guilty pleasures:
Cats. He loves cats. They completely make him soft. So cute things?
Pet peeves:
Annoying noises, not figuring out how to fix something, people who judge way too quickly.
Pets:
A cat named, Kitty. (Yeah, he's not so creative with names.) Only he knows about Kitty and likes to keep it that way.
Talents:
Fixing things, inventing things, sketching.
Favorite colors:
Blue and Green.
[b]Favorite type of music:[b]Classical music and jazz are his favorite. Deep down, he wishes he could play an instrument. Sigh...